Rhayader Church in Wales Primary School as a bilingual school is pleased to be participating in the Cymraeg Campus Language Charter alongside the First Language Siarter Iaith. / Mae Ysgol Gynradd Eglwys yng Nghymru Rhaeadr Gwy fel ysgol ddwyieithog yn hapus i fod yn cyfranogi yn y Siarter Cymraeg Campus ar y cyd gyda'r Siarter Iaith.
The Cymraeg Campus Language Charter has been created by ERW Welsh in Education officers and is the first charter specifically created to develop Welsh in English medium and dual stream schools. The Siarter Iaith  has been created in order to further promote and enrich the use of Welsh within first language classes and schools. / Crëwyd y Siarter Cymraeg Campus gan ERW er mwyn ddatblygu a hybu'r defnydd o Gymraeg yn Ysgolion Saesneg a dwy ffrwd. Mae'r Siarter Iaith wedi'i greu i gyfoethogi a hybu ymhellach y defnydd o Gymraeg o fewn dosbarthiadau ac ysgolion iaith gyntaf. 
We have been successful in achieving our Bronze award in both charters, therefore the school is currently working towards our Silver award within the next two years. / Rydym wedi bod yn llwyddiannus yn ennill ein gwobr Efydd yn y ddau Siarter, felly mae'r ysgol wrthi'n ymgeisio tuag at ein gwobr Arian o fewn y ddwy flynedd nesaf.
Rhaeadr Gwy Criw Cymraeg is made up of  pupils working alongside each other from first and second language classes who are enthusiastic about promoting Welsh in our school – helping other children to understand and use Welsh throughout the day! / Mae'r disgyblion Criw Cymraeg wedi'i ddewis o'r dosbarthiadau iaith gyntaf a'r ail iaith yn frwdfrydig i weithio ar y cyd i hybu'r Gymraeg o fewn yr ysgol – i helpu plant eraill i ddeall a defnyddio Cymraeg trwy gydol y dydd!
The children in Criw Cymraeg are responsible for:
contributing to School Assembly every Thursday
demonstrating playground games in Welsh each day
promoting Welsh language throughout the school such as in the morning fruit shop
teaching children throughout the school the Welsh 'Ymadrodd yr Wythnos' (Phrase of the Week).
Criw Cymraeg meet every Tuesday  to learn new Welsh games and to choose 'Ymadrodd yr Wythnos'.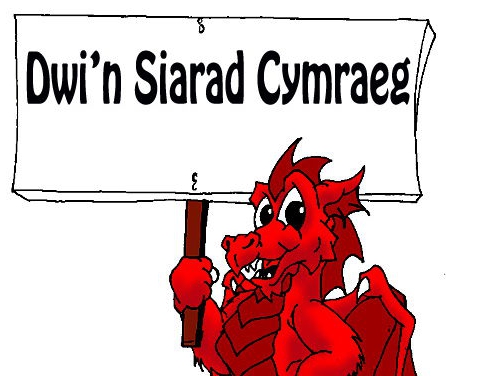 Find out more about Cymraeg Campus from the parents' leaflet…..
Gwefannau – Websites Apiau Cymraeg – Welsh Apps
Here are some useful websites, apps and Welsh phrases to help with your child's Welsh skills. Whether you're a fluent Welsh speaker or not, you are also key in helping develop your child's Welsh skills.
Click on the links below.
List of Suitable Welsh 2nd Language Apps Version2
Mwynhewch dysgu gyda'ch plant!