Here is our PTFA and what we have planned …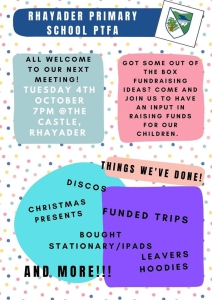 The PTFA is a group of parents, school staff, community members and local organisations that support the school.  They help with ideas and suggestions to improve the school and also raise much needed funds for the school.  The money is used to purchase class resources, each class has £5 per child to spend each year to help reduce costs for parents; school trips are sometimes subsidised by the PTFA as well the Year 6 hoodies each year, the Christmas parties and a special gift in December from a man who lives in the North Pole.
Local businesses support the school.  Christmas gifts were given by Ty Morgan's Rhayader and Hafod Hardware donated money to the school from their Christmas TV Advert.  We used the donation to purchase digital devices for families during lockdown.  The devices are now being used in our classes for all of the children to enjoy.